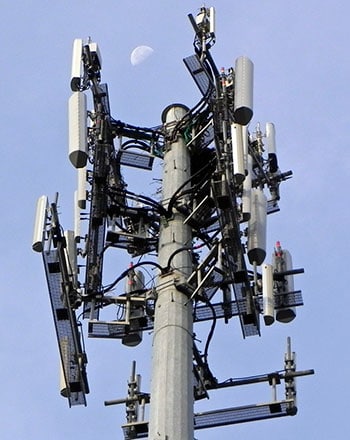 Custom Optiflex Hybrid Cable for Wireless Service Tower
Components: Copper and Fiber Cables When the Tier One servicer of a major telecom provider needed to update its wireless tower installations to meet the new technology requirements of 4G service upgrades, including LTE and WiMax, they reached out to the Optiflex Cable experts at Cables Unlimited. Over 16 months, Cables Unlimited has supplied roughly 2,000 Optiflex custom hybrid cables to some of the largest names in telecom, making them one of the industry's top custom wireless cable manufacturers. Optiflex Cables are large gauge custom hybrid cables consisting of copper and fiber components used to connect high-powered radios on wireless towers. Cables Unlimited offers versatile design capabilities, incorporating elements such as fiber optic cables and DC power cables with a copper tape outer shield to replace traditional corrugated aluminum or copper.  Other available constructions include traditional corrugated shields or braid shielding and the option to include coaxial cables and Ethernet cables in the hybrid cable design. The innovation of replacing the traditional corrugated copper or aluminum with a flexible copper tape shield creates a lighter, more streamlined hybrid cable. This change also makes the cable easier to handle, and its smaller profile can even decrease lease costs on the towers.
Optiflex Cable is self-contained on one reel, is factory terminated, and is used with standard tower accessories, further simplifying installation.
Because Optiflex custom hybrid cables are designed to support high length/high height cellular tower applications, they must withstand some unique environmental hazards. They are not only outdoor rated and weatherproof, but, upon request, can also be made bird and vermin proof using rugged cable and deterrents.
With Cables Unlimited, you can get a custom designed copper and fiber cable that meets all of your wireless service needs. Adjust specifications to meet your requirements, and take advantage of Cables Unlimited's quick response and design turnaround, as well as short lead times for production and low minimums on custom runs. All Optiflex Cables are Made in the USA and come with a multi-year warranty.
Learn more about Optiflex Cables from Cables Unlimited and view our brochure or call 1-800-590-9965 to discuss your 4G cell tower cable needs with a representative today.